Innovations in Cardiac Emergency Solutions
Philips has long been a pioneer in the world of healthcare, continually striving to make medical solutions more accessible and efficient. Their range of automated external defibrillators (AEDs) reflects this commitment. Specifically tailored to meet the needs of various environments, Philips HeartStart AEDs are designed to guide even the untrained individual through the potentially life-saving process of defibrillation and CPR.

Why Choose Philips AEDs?
Every year, thousands of Americans suffer from sudden cardiac arrest, with a significant majority occurring at home. The crucial window for intervention is small. Studies have shown that a combination of CPR and defibrillation within 3-5 minutes of collapse can drastically improve survival rates. Philips HeartStart AEDs, designed with the latest technology, empower individuals to act promptly and effectively during these critical moments.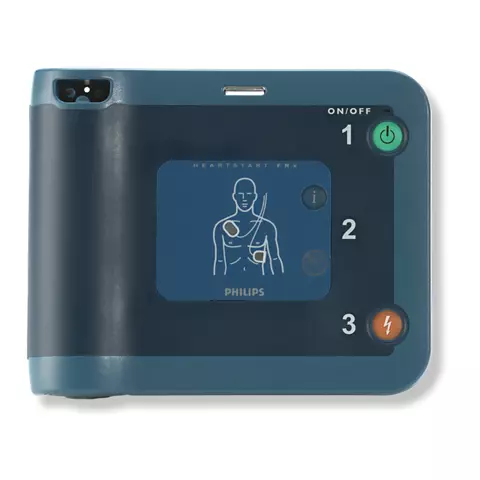 Use
Suitable for diverse settings from malls and offices to sports clubs and vehicles.
Size & Weight
Compact at 7.2cm H x 19cm D x 21cm W and weighing around 1.5 kg.
Pads Type
Features the HeartStart Adult SMART Pads or Infant/Child SMART Pads, available through a convenient disposable cartridge system.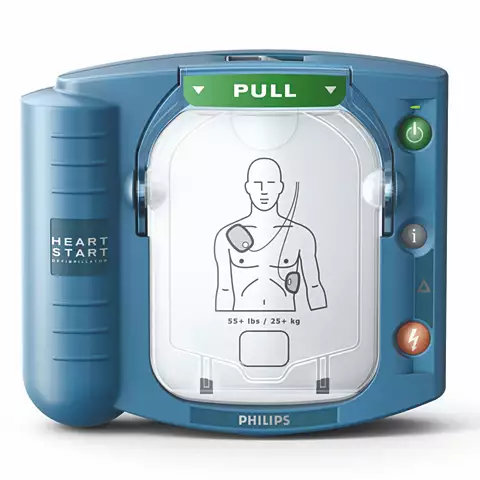 Use
Designed for tougher environments, including outdoor locations like golf courses, beaches, or hiking trails.
Size & Weight
6cm H x 18cm D x 22cm W and approximately 1.6 kg.
Pads Type
Uses HeartStart SMART Pads II, offering defibrillation for both adults and children. The unique Infant/Child Key adjusts energy levels for younger patients.
Philips AEDs are engineered for quick and intuitive operation, ensuring that anyone can respond effectively during a cardiac emergency.
Adaptive voice prompts lead users step-by-step, ensuring proper procedure and confidence during a rescue.
Efficient design ensures the AEDs are ready for use in just minutes.
Benefit from comprehensive online resources, including how-to videos, clinical training, and dedicated support channels.
Why buy from a local business?
Fire & Safety offers lifetime support, free device orientation and setup, and reminders on expiring goods for all AEDs purchased. We also facilitate any communication with the manufacturer if needed.
Get Your HeartStart AED Today!
At Fire & Safety Equipment Co., we prioritize your safety and well-being. As a trusted partner of Philips, we offer these state-of-the-art AEDs to ensure you're equipped to handle cardiac emergencies effectively.
Ready to safeguard your space with a Philips AED? Reach out to Fire & Safety Equipment Co. today and let us help you choose the right AED solution for your needs.