Proud Distributor of Tempest: Leaders in Fire Ventilation Technology
The inception of Tempest's journey in the fire industry is both revolutionary and close to our hearts at Fire & Safety Equipment Co. Rooted in the origins of positive pressure ventilation/attack (PPV/PPA), Tempest's story began with collaborating alongside pioneering fire departments in California. Together, they contributed to the first wave of testing and implementation of PPV/PPA strategies, introducing the power of ventilators in firefighting.

Today, Tempest stands tall as the foremost provider of premium, American-made positive pressure ventilation fans, serving departments and fire professionals across the globe. Their dedication to quality, innovation, and craftsmanship is unparalleled. And at Fire & Safety Equipment Co., we echo their sentiment of gratitude, valuing the unwavering trust and loyalty from our firefighting community.
 As authorized distributors, we invite you to explore and experience the best of Tempest's offerings, ensuring optimal safety and efficiency for your firefighting needs.
VS-1.2 TECH SERIES BATTERY POWER BLOWER W/ FOLDING HANDLE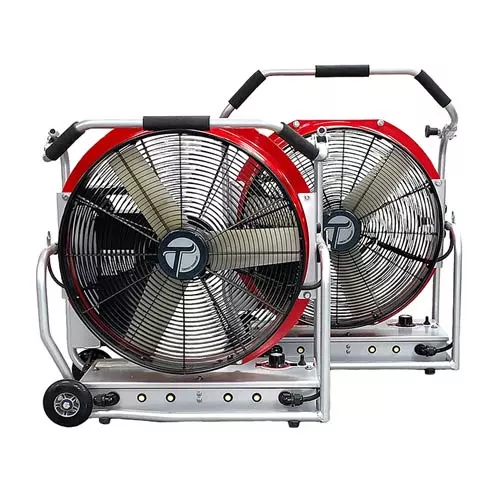 Introducing the Tempest Tech Corp's VS-1.2 battery-driven blower.
Unmatched performance and utility, this power blower is the essential tool for fire departments, EMS, and facilities management professionals.
Key Features of the Tempest Tech VS-1.2 Blower:
Extended Performance: With a 70-minute run-time even at full speed, you're ensured industry-leading operational duration.
High Efficiency: 10,887 CFM AMCA Certified Air Flow, optimized with a lightweight steel shroud and composite impeller.
Dependable Power: IP 65 rated removable Lithium-Ion battery that fully recharges in about 4 hours.
Lightweight & Portable: Weighing only 52 lbs with the battery, it boasts an ergonomic patent-pending frame design with transverse wheels, ensuring easy mobility and positioning.
Additional Features: Includes variable speed motor, LED flow-path lighting, small footprint, and a dynamic battery control system for optimal performance and safety.
VS-1.2D TECH SERIES DEWALT BATTERY POWER BLOWER W/ FOLDING HANDLE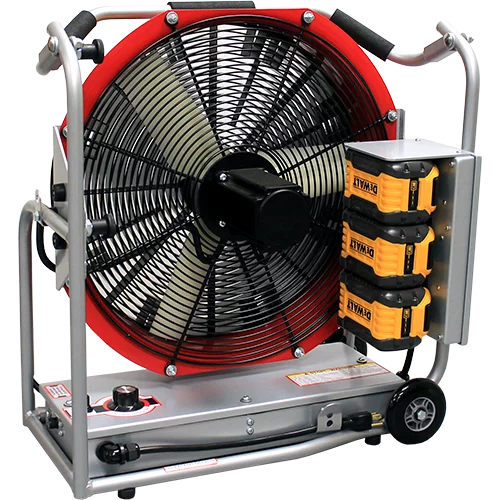 The VS-1.2D DEWALT battery-driven blower delivers a level of utility and performance found with no other battery-driven blower with the convenience of DEWALT FLEXVOLT 60V batteries.
Key Features of the Tempest Tech VS-1.2 Blower:
Discover the Difference with Tempest
Equip your team with the industry-leading ventilation technology trusted by firefighting professionals worldwide. Dive into our range of Tempest products and elevate your firefighting capabilities.