LUNAR + Connected firefighter
HOW WE PREPARE AND RESPOND IS CHANGING
Training and safety tactics have been the staple of preparing for the uncertain— a mayday. The traditional approach to mayday is rooted in the assumption that Incident Command is set up and able to dictate direction in the critical time, voice communications are clear, and the dedicated RIT team will take action.
The technology revolution has opened the door for new life-protection opportunities that are far beyond traditional practices and add peace of mind no matter what uncertainty you are faced with. To be prepared for your worst day, you need more than accounting for some of your team, incomplete information on your crew, and tools for a subset of your team to respond in a critical time.
You need to be confident your entire crew is accounted for and you are being supplied with real-time information for confident decision making. You need to close the vulnerability gap with technology that goes beyond just having an idea of where your crew is or how much air they have, but knowing if a mayday is issued, everyone on the scene is instantly notified and can respond. Because safety is not just about the pieces—it's about the entire system being confident and prepared.
MSA is the first manufacturer to introduce advancements in firefighter safety, providing F.A.S.T Technology, connectivity, and Edge Detection enhanced thermal imaging to every firefighter on scene. Only with the MSA LUNAR and FireGrid can you experience a network of safety providing real-time, on-scene visibility, increasing safety, and decreasing risk for all personnel on and off scene.
You'll use the most effective mix of today's technology, and be ready to turn on new technology as soon as it becomes available—all on the same platform. With rapidly advancing capabilities in the areas of connectivity, situational awareness, locating, and monitoring, the possibilities for firefighter safety are staggering. In the end, you'll protect not only your investment, but most importantly, the safety of your firefighters and everyone on a fire scene
ACCOUNTED
Wireless to allow for accountability of the entire team on every scene— on or off-air.Equipped with 3 alarms: manual, motion, and hardware to keep you accounted for in your time of need
CONNECTED
Integrated LTE-M technology uses existing cell towers to send real-time accountability information to FireGrid Monitor + FireGrid Remote Monitoring.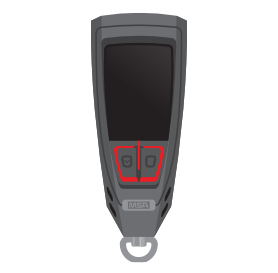 CONFIDENT
3.5" (89 mm) display for clear viewing of Edge Detection-enhanced thermal imaging, receiving an Evacuation, and confirming the air pressure, time remaining, and battery status of the paired G1 SCBA.
COMFTORABLE
Designed with two easily-locatable buttons for simple scrolling and selecting in a gloved hand. Swivel quick disconnect for easy use with multiple attachment methods.
MSA Connected Firefighter: Explained
Safety is at the forefront of everything we do. See how the revolutionary MSA Connected Firefighter Platform works together to help keep you safe, connected and accounted for, even in the most dangerous situations.